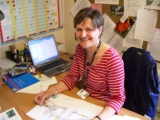 Learn How to...... so you can DIY in your garden.
Carol loves to talk, teach and inspire people about gardens, plants and garden design. Would you like to learn more about your garden and how to transform it ? An enjoyable, informative presentation or workshop session could be just the answer to learn more about gardens and plants so you can sort it out!
Carol delivers lectures and presentations at Pershore College, for the RHS and to garden groups all around Worcestershire.
I know, you want to revamp your garden but don't know where to start! You need some expert help but who and what? Choose from the following..............

1 to 1, or small groups. Tailored to meet individual needs. Which subject suits you?
LEARN ABOUT: Design Theory - Design Principles & How to Use them. How to Survey & Analyse a garden.
From Concept to Completion - taking an idea and developing a theme for your garden. Drawing skills - learn to draw plans to scale,3D drawing techniques, colour render. How to organise & plan a project inc. quantifying.
PLANTING DESIGN: Understanding plants & Plant selection. Planting Design theory. Learn to draw up a planting plan, to scale. Learn to organise & plan a planting project inc. quantifying & costing.
For a garden that you can enjoy, admire and feel inspired by contact Carol on 07737 788543 or Email. c.smithgardens@gmail.com