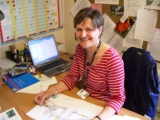 Carol loves to talk, teach and inspire people about gardens, plants and garden design. An enjoyable, informative presentation or workshop session could be just the answer to learn more about gardens and plants so you can sort it out!
Carol has a file on her computer that is bursting with talks & presentations on a huge variety of garden & garden design related subjects. She will also produce an information sheet for you to take home on the talk subject.
A great way to have a different kind of coffee morning or afternoon tea!